Thai wedding studios store fronts, Nakhon Si Thammarat City, Thasala, and Phuket
There are over one hundred wedding studios in Nakhon Si Thammarat City alone. Each is independently owned and operated, and usually offers packages of services available to brides and grooms to be. While the number of studios seems high, it comes as no surprise when looking at census data for the country. About 66% of the population was of working age (15-59 years old) at the time of the 2010 census, a demographic which contains the age of most people of marrying age in Thailand (Chapter 2: Major Findings). From the time of 2000 census to the 2010 census in Thailand, there was a slight increase in the number of married persons in the country (Gender statistics Survey).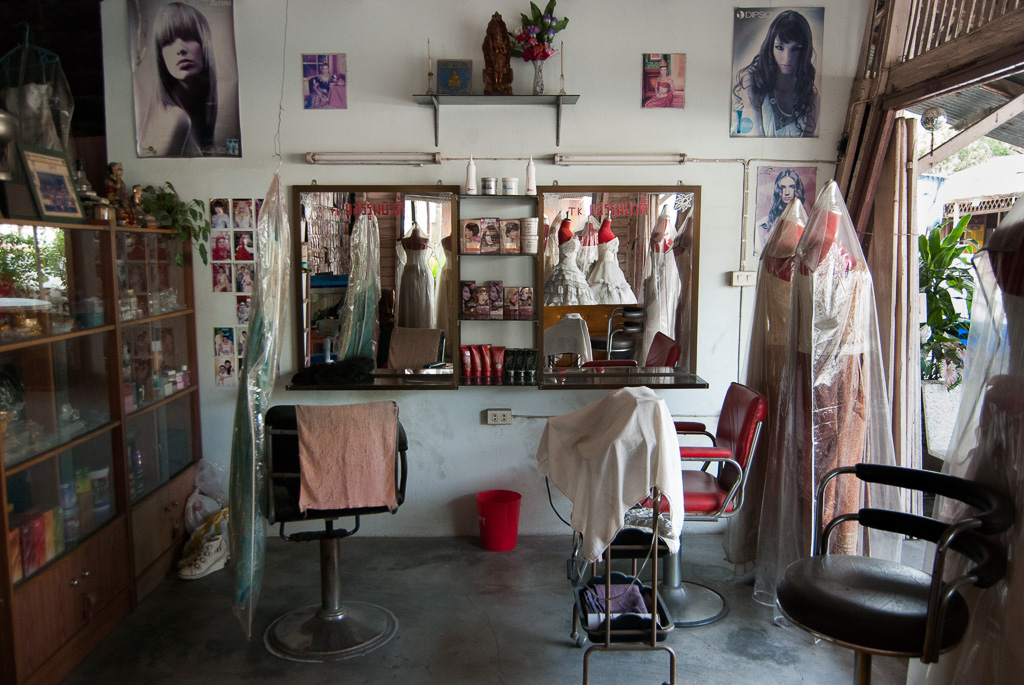 Wedding studio after hours, Thasala
Because most wedding studios in this area offer packages that include the two wedding dresses, photography, hair and makeup for the bride, and a wedding planner, one can assume that this shop sports what appears to be a full salon facility for their clients. Surrounding the salon area are rental dresses covered in plastic dry cleaning bags. The owner for the shop was nowhere to be found and despite appearances (no closed doors, no shut windows), the shop was closed for the evening.
Rental pieces for the groom, Classic Studio, Nakhon Si Thammarat City
In the center of the image we see a blend of the western influence and traditional Thai style by combining pieces from a tuxedo alongside pants made from Thai silk.
Portraits of brides, Thasala
It is common for bridal studios in this region to include portraits of past brides to display the photography offered in their packages, or styling services provided by the shop. On the wall of the empty bridal shop hangs an array of portraits. It is unclear as to whether or not these are past clients or images meant as points of inspiration for future clients
White wedding dress versus traditional Thai wedding dress, Tonrak Wedding Shop, Nakhon Si Thammarat City
While this shop is smaller in size, Tonrak Wedding Shop offers a wide variety of styles of white wedding dresses and a somewhat smaller selection of traditional dresses. The base rental price for a white gown at this shop starts at 2,000฿. Prices increase depending on intricacy of the design. Kaew, the shop owner, finds dress designs and then has the dresses cut to order.
Rental pieces hang in back of the studio, Together Studio, Nakhon Si Thammarat City
Together Studio sits along a block between three other wedding studios in downtown Nakhon Si Thammarat City. White dresses in this shop can be rented for anywhere between 4,000฿ and 8,000฿ each. The traditional dresses usually are rented out at a cheaper price from 4,000฿ to 5,000฿ per day. This shop is family owned and operated and also offers photography packages to couples that are usually taken prior to the ceremony. Some shops also offer rental pieces for the entire wedding party, and the rental rates for these pieces are often lower than wedding dresses.
Traditional Thai wedding dresses on display, I Love You Studio, Nakhon Si Thammarat City
Rental prices for the white wedding dresses in this shop usually ranges from 6,000฿ to 25,000฿ each, and traditional dresses usually rent for 4,000฿ to 15,000฿ each. Here, the mostidentifying element of these dresses is the Thai silk, as it is customarily only worn during the actual wedding ceremony that takes place in the morning of the couple's special day.
White wedding dresses hang in open doorway, Thasala
White dresses tend to be the main draw for clients into different shops, and it is common to see a wider selection of styles of these gowns than of the traditional style gowns. According to one shop owner, despite the number of shops in the area there is still a great deal of competition from shop to shop. Regardless, most clients are swayed more by pricing of services and rentals than any other factor.
Interior of Parichat Flower Shop, Nakhon Si Thammarat City
Parichat Flower Shop has been in business for 20 years, and works with wedding planners, the bride and groom, or hotel and venue staff to coordinate flower arrangements for the wedding events on a regular basis. Pensri (center) shows off a book of floral arrangements from past wedding gigs. Most of the time, the shop supplies fresh flowers, but also provides fake flowers for certain types of décor. Tradition also dictates that the couple wears a set of flower garlands around their necks as a sign of unity and unbroken bonds during the early morning ceremony, which the shop also provides.
White wedding gowns in store window, Classic Studio, Nakhon Si Thammarat City
While some shops will have wedding dresses cut to order from suppliers, other shops buy dresses that are already made from suppliers in larger cities like Bangkok. It is rare that brides will want custom dresses made as the rental option is typically the most financially viable option.
Printed signs for past customers, Tonrak Wedding Shop, Nakhon Si Thammarat City
Along with Tonrak Wedding Shop's usual package (dresses, floral arrangements, photography, invitations, etc.), the shop also offers printed signs that can be used for the wedding events. These signs are in printed in full color and can include pictures of the bride and groom.
Future bride preps for pre-wedding photos, Tonrak Wedding Shop, Nakhon Si Thammarat City
This bride to be is 23 years of age and met her fiancé at university. She has spent time with a professional hair and makeup artist arranged for her by the shop. She is then given the chance to choose the dress she wanted to be photographed in. After this, she finalizes her look with the hair piece and earrings in the back of the shop while her fiancé sits in the hair and makeup chair himself.
Rolls of Thai silk versus fabric for white gowns, Chokdee Fabric Shop, Nakhon Si Thammarat City
Chokdee Fabric shop has been in business for 35 years and sells all kinds of fabrics for a wide variety of clientele. Wedding shops are their third most common client behind schools and governmental agencies. Chokdee sells both fabrics made for the traditional Thai style of wedding dress (about 140฿ per meter) and the white wedding dress (about 120฿ per meter). Fabrics for the white dresses are imported from China, and the production of these fabrics is comparable to that of Italian methods of production.
Up close and personal with Thai silk, Chokdee Fabric Shop, Nakhon Si Thammarat City
Fabrics for the traditional style dresses are usually made in Thailand but are occasionally imported from Indonesia and South Korea. While these fabrics used to be reserved for special occasions, particularly for weddings, many hotels have begun ordering these fabrics to use for as decoration such as table cloths for special events.
Wedding souvenirs for purchase, Ratana Shop and Chokdee Fabric Shop, Nakhon Si Thammarat City
Souvenirs are customarily given to close family members and other guests who attend the wedding ceremony. At Ratana Shop (right), customers buy these gifts wholesale, and the price for each piece costs between 10฿ to 20฿ each. While Chokdee Fabric Shop (left) primarily sells fabric, customers can also purchase souvenirs in bulk at the shop. Typically, these gifts consist of small tea cups, fans, small decorative boxes, or coin purses. Special gifts are usually set aside for family members of the bride and groom such as parents and grandparents, and are often presented in ornate ceramic bowls.
Chinese couple takes pre-wedding pictures, Phuket
Phuket is a popular tourist destination off the southwest coast of the Thai peninsula, and is known for its scenic views and accessibility for neighboring countries on the Asian continent. The couple pictured here chose to be married in Phuket as opposed to their home of Beijing, China.
Interior of Nakhon Kan Pim Invitiation Shop, Nakhon Si Thammarat
This invitation shop sits next to Ratana Souvenir shop on a busy street in NST city. Here, a couple or a wedding planner can go in person and choose the type of invitation they want to use for their wedding day. Invitations run anywhere from 6฿ to 20฿ each. After the couple has chosen a design from the shop's selection, the shop will print information on the card using a nearly 100 year old original Heidelberg printing press ("The History of Heidelberger Druckmaschinen AG.")
Wedding photobooks and dresses on display, Classic Studio, Nakhon Si Thammarat
Clients in this shop are invited to flip through wedding books of past clients and view samples from the shop's photography packages. Classic Studio is owned by Kung, who also owns I Love You Studio just down the block. In the wake of I Love You's success, Kung decided it was time to open another shop. Now, Kung feels that this second shop has been somewhat less successful than the first.
Store window of a Muslim wedding studio, Nakhon Si Thammarat City
While Buddhism is the predominant religion in Thailand, there is a strong Muslim presence in the southern region of the country. This being the case, there are many shops that cater specifically to this demographic, including wedding shops. This photograph was captured during the month of fasting and prayer known as Ramadan, which explains why this shop was closed on a busy Saturday downtown.
Seating area, Classic Studio, Nakhon Si Thammarat City
Western influence in the Thai wedding industry can be seen not only in the style of dress. Kung admits that western style has become a noticeable facet of the wedding industry in Thailand, even down to the interior design of these wedding shops. As she sees it, "westerners love Thai style, and Thais love western style."